VERTICAL GARDENS
The Vertical Garden is a structure for plants capable of covering and adapting to vertical surfaces, specifically buildings' windowless facades. It was designed to activate healthy experiences, while improving the quality of the surrounding environment and adapting to the most diverse situations. It is able to help filtering air pollution and thermal comfort, in the building where it is installed and the areas around it. The plants also help control humidity, as well as acting as an efficient acoustic barrier. Moreover, each plant, in its own unique color and texture, has an immense aesthetic potential, working as dots, lines, planes, rhythms and textures that can work as elements in an artistic composition.
The presence of a vertical garden does not damage or increase the risk of water infiltration on the surfaces on which it is installed. It demands little maintenance, for its irrigation system is automated; the garden can be removed at any time, if necessary, without damaging the original wall. They can be installed on any surface, adapting to internal and external spaces.
VERTICAL GARDENS IN URBAN SCALE
Vertical gardens in urban scale are implemented through the Environmental Commitment Term (TCA) established by Decree 55.994 as an environmental compensation tool. The maintenance of the gardens can be carried out by the private initiative, as a form of adoption of the gardens, according to Decree 56.630 that establishes the term of cooperation.
"Art 4 - converting the compensation into construction work, services, vertical gardens and green roofs will be accepted as an exception, upon valid deliberation of the Collegiate of the Câmara Técnica de Compensação Ambiental - CTCA "
Decree 56.630 | November 19, 2015
"Art. 1º - The Municipal Secretariat for the Environment and Green Areas (SVMA) may celebrate cooperation agreements with the private sector with the purpose of executing and maintaining, or exclusively maintaining, vertical gardens (...)"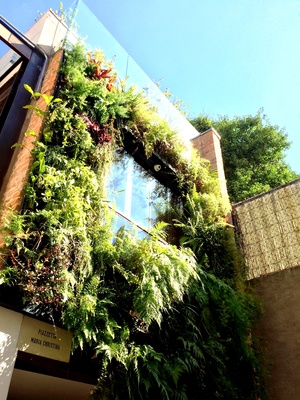 HOW IT WORKS
The construction process is based on a simple structure, composed of modular plates on which the vegetation is settled. In order to ensure constant nutrition, an automated irrigation system is also installed. The entire process can be divided in four steps:
Production and assembly of the structure's modular plates
Installation of an irrigation system
Planting of different plant species
Garden maintenance
Here you can download the complete manual that indicates the necessary materials for your garden and a step-by-step guide to creating your own vertical garden!
WANT TO HAVE A LIVING WALL AT HOME OR IN YOUR WORK SPACE?
ASK US FOR A QUOTE!